AUTOMATED APP FOR BARGE OPERATIONS IS KEY FOR INDUSTRY'S ADVANCEMENT– HON. UDEZE ERNEST OKECHUKWU
By Mcanthony Onuoha
The Spokesman of Barge Operators Association of Nigeria- BOAN, Hon. Udeze Ernest Okechukwu, has disclosed plans to have Automated Application for flawless and seamless barging operations and data management.
Okechukwu, who made the disclosure while addressing Journalists at a special fund raising party organized by BOAN to support his campaign as candidate of the All Progressives Congress for Ideato North State Constituency in Imo State Assembly election come 2023.
maintained that with the automated barge Application,the country would have accurate data of both import and export cargoes that enter and go out of the country on daily basis saying it would help in the advancement of Nigerian Maritime industry.
According to the maritime expert, and Politician, " my desire is to see a model Maritime industry with organized and exemplary modus operandi. When l joined BOAN, the narrative changed, l tried to create automated barge application to enhance the system, changing the narrative was simply to implement that and we are still working on it and l am assuring that my dream of automating barge operations in Nigeria is a reality. When that takes place, it is going to form the data bank of the Maritime industry. We need to be able to account for the number of export that leave the country and the kind of product it left with. We need to have detailed account of what is leaving our shores, the number of empty boxes, the quantity of import that moved by barge and other means . I want Nigeria to have data of importation so that in no distant time, we will be able to forecast what will happen in the industry in the next ten, twenty to fifty years".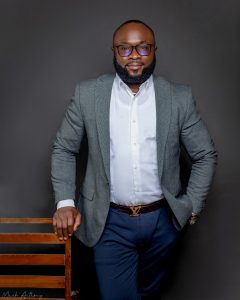 Continuing, the prospective lawmaker decried the non- implementation of the Cabotage Law which Nigeria is a signatory to. According to him, "the lacuna has created a loophole that have allowed foreigners to take over barging operations in Nigeria."
" The Cabotage Law is not domesticated here in Nigeria and foreign investors are coming into barge operations whereby our local Practitioners are going out of the business because they are coming with single digit loans from abroad to compete with us the local operators . So, we need to protect the industry or else, it will go down,"
The CEO of Royal Renacido Consult Ltd said, "being a technocrat in the industry ; l read Maritime Management and Oceanology in Federal University of Technology owerri- FUTO, and with that, l am part and parcel of the system. I started from freight forwarding and transmuted into pure marine logistics which is barging operation and we are still trying painstakingly to discover better ways to contribute to the growth and advancement of the Maritime industry."