IT'S 80 HAPPY CHEERS FOR THE VETERAN, CHIEF INNOCENT OFOEGBU
** Oak jubilee marked in Grand style
By Mcanthony Onuoha
Veteran maritime practitioner and Chieftain of Association of Igbo Maritime Practitioners in Nigeria-ASIMPIN, Chief Innocent Ofoegbu, was in his best of moods on Sunday, the 11th of September,2022, as he marked his 80th birthday in grand style.
The event which ushered Chief Ofoegbu into the league of octogenarians began with a thanksgiving church service at St. Charles Catholic Church Olodi Apapa, Lagos, after which family and friends, business associates and well wishers proceeded to the reception hall at Carinton Hotel, off Coconut Bus stop,Olodi Apapa.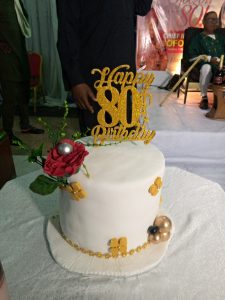 It was indeed a nostalgic moment as the veteran who is also the Patron of Elders' Forum of National Association of Government Approved Freight Forwarders- NAGAFF and holds the title of Oshimiri 1,of Mbano watched with excitement as family, friends and well-wishers took their turns to pay tributes to him while still alive, healthy and hearty.
However, preparations for the event commenced a couple of weeks ago by friends and associates of the amiable veteran Maritime Practitioner, the organizers who showed so much love and respect to the octogenarian accompanied him to the Thanksgiving Service and to the reception hall thereafter, made the 80th year of Chief Ofoegbu, being his oak jubilee, a memorable one.
Some of those present at the event include, veteran Maritime Practitioner and President General emeritus of ASIMPIN, Chief Isidore Agoha, ASIMPIN Chieftain, High Chief B.C Nwachukwu, the Interim President of Association of Nigerian Licensed Customs Agents- ANLCA, Chief Pius Ujubuoñu, ASIMPIN National Executive Member and Coordinator, Tincan Island Chapter, Mazi Isaac Ndukwe(Okwadike), Chief Henry Ikwue, NAGAFF Chieftain, Chief Ignatius Nwachukwu and High Chief Emma Anyanwu among others.
In his welcome address, Chief Ofoegbu expressed appreciation to the organizers of the event and everyone that contributed to the success of the event. He thanked God Almighty for giving him the grace to be part of the event marking his 80th year on Earth. He prayed for everyone that graced the occasion asking God Almighty to extend that same grace to each and everyone present and also to those who were not able to attend due to one reason or the other.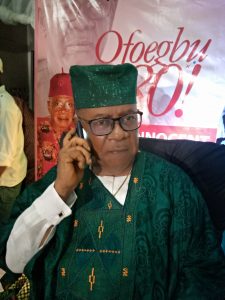 One of the organizers of the event, Mazi Isaac Ndukwe (Okwadike), thanked members of the Organizing Committee for their show of love and respect for the Veteran and prayed God Almighty to grant them the same grace for longevity.
Paying his tribute, Chief Ignatius Nwachukwu, described Chief Innocent Ofoegbu as a good man and an Elder Statesman who has paid dues.
Chief Innocent Ofoegbu, an illustrious son of Mbano in Imo State is a seasoned freight forwarder who has given the best part of his life to the subsector. His love for humanity is in no doubt one of the reasons he is still alive and kicking.
The veteran who mesmerized everyone at the event with his great dancing skill got the full dose of love and that indeed, made his 80th birthday a memorable one.