MAJAN Elects New Executives.
***President Promises a single Tenure of Two Years
By Anne Ejuka
Following the expiration of Ray Ugochukwu led executive since April 2021, the Maritime Journalists Association of Nigeria (MAJAN), today, Friday, November 26th, 2021, at Presken Hotel Airport Road, Isolo, Lagos, elected new executive to run the affairs of the association for the next two years.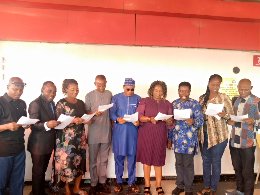 THE NEW EXECUTIVES OF MARITIME JOURNALISTS ASSOCIATION OF NIGERIA-MAJAN, TAKING OATH OF OFFICE AFTER THE ELECTION AT PRESKEN HOTEL, AIRPORT ROAD, ISOLO, LAGOS TODAY, FRIDAY, 26TH OF NOVEMBER,2021.
In the light of this, the following officers emerged: Alhaji Tunde Umar Daniah, President; Comrade Udochukwu Onyeka, Vice President; Mrs.Chinonye Anyatonwu, Financial Secretary;
Mr.Dili Utomi, General Secretary.
Others are Mcanthony Onuoha, PRO; Alfred Omenihu, Assistant Secretary; Mrs. Anne Ejuka, Welfare Officer; Mrs. Victoria Silvernus, Treasurer, and Mr.Azeez Itopa as Provost.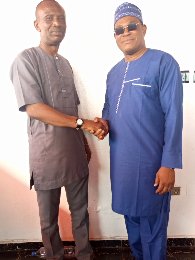 THE NEW PRESIDENT OF MAJAN, ALHAJI TUNDE UMAR DANIAH, (RIGHT),AND THE VICE PRESIDENT, COMRADE UDOCHUKWU ONYEKA, AFTER THE ELECTION.
After the administration of the oath of office, the newly elected president, Alhaji Tunde Umar, while speaking on behalf of the newly elected officers, promised to run a transparent and all inclusive administration, assuring that his administration will do eveeything possible to right the wrongs of the past administration.
In his words, "1 thank you all well meaning members of MAJAN for finding me worthy to lead you as President, I promise to serve for a single tenure of two years within which we would by the grace of Almighty Allah, and with the corporation of members, return the lost glory of MAJAN; I will run an open and transparent administration where all members right and interest will be protected in accordance with the provisions of the true MAJAN constitution;.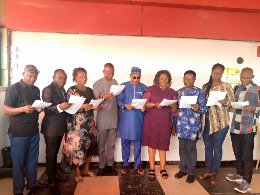 The election which took place in a serene and conducive atmosphere was very was hitch free .