APFFLON INAUGURATES CHAPTERS EXECUTIVES, AS OGUNOJEMITE TASKS THEM ON DILIGENCE AND PROFESSIONALISM
BY MCANTHONY ONUOHA
Africa Association of Professional Freight Forwarders and Logistics of Nigeria (APFFLON), did on the 29th of June, 2021, inaugurate its Chapters Executives to oversee their affairs.
NATIONAL PRESIDENT OF APFFLON, OTUNBA FRANK OGUNOJEMITE AT THE INAUGURAL EVENT
Chapters inaugurated were that of Apapa, TinCan and Ikorodu.
Meanwhile that of MMA and MMIA, were a reshufflement and reaffirmation exercise, while new National officers were also sworn.
Alhaji Ibrahim Hassan, was sworn in as Apapa Chapter Chairman; while Mr. Martins Ademonye, is now the Vice Chairman. Mr. Patrick Ozah is the Chapter Secretary; Mr.Nwaolise O. Emmanuel, was sworn in as Public Relations Officer(PRO), of the Chapter,; as Mr. Nwaolise Stephen Lucky is now the Treasurer. Mr.Peter Arinze , is the O.C. Intelligence, while Henry Obodere was sworn in as O.C. Operations. Others were Mr.Nkem Osandere , Assistant Secretary; Mr. Ifeanyi Ideh, O.C. Intelligence- 1; and Mr. Sunday Oguntuase who is now O.C. Operations -11.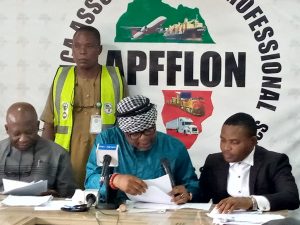 Meanwhile, Fwdr. Godfrey Emeka Nwosu, is now Chairman, TinCan Chapter, while Prince Ayeni Adekunle was sworn in as Vice Chairman. Others were Fwdr. Rose Orumor, Secretary, Hon. Odera Onwudiwe, Treasurer, Fwdr. Ikechuckwu Umelo, Assistant Secretary; Fwdr.Ismeal Chukwunyere, CFFRO. Fwdr. Kevin Nwaohu, was sworn in as O.C. Intelligence; Alhaji Rabiu Taofeek , Financial Secretary while Prince Victor Addeh is in charge of Ethics and Discipline.
For Ikorodu/ Ibese Chapter, Alhaji Ismail Adeniyi was sworn in as Chairman while Chief Okey Nneke is the Vice Chairman. Oladunjoye Olubodun, Secretary; Akeem Adebayo Ayobiojo, Fin.Sec; David, Mekwonye, PRO,; Chief Labral Bashorun, C.R.O; Barr. Arthur Tony is the Compliance Officer-1; Fatimo Abdulahi, Compliance Officer -2; Rotimi Onalaja, is the C.R.O.-11, as Oluwatoyin Temitope Adeniyi was sworn in as the Welfare Officer.
However, there was a revalidation exercise as the Association reshuffled and sworn in National Executives. Chief Bathalomew Onuoha, is now National Vice President of APFFLON, Barr. Oluwasegun Balogun,Esq., Is the Assistant General Secretary. Barr. Oluwasegun Adebowale,Esq., is the Financial Secretary, while Barr. Olaruntosin Otuyiga,Esq., is now Treasurer. Others were Fwdr. Patricia Agboje, Head of Business Development and Investment; Fwdr. El- Sabyl Mavis Ogheneovie, is now National Welfare Officer.
For MMA Chapter, Pastor Victor Akorede Shatayo, was sworn in as Chairman; Fwdr. Marley Kudu, Vice Chairman; Fwdr. Azeez Abayomi Mustapha, Secretary; Fwdr. Anselem Ekeh, Assistant Secretary while Fwdr. Ifeanyi Bamidele Akasike, is the Fin.Sec. Others include Fwdr. Quadri Olorunfumi, Treasurer; Fwdr. Giwa AbdulRazaq ,PRO, Fwdr. Peter Kalu, Compliance Officer, while Fwdr. Ismaila Ennesi, is the Welfare Officer.
However,, MMIA Chapter was also inaugurated as Fwdr. Ganiyu Kolawale, is now the Coordinator; Fwdr. Tunde Salam, Secretary while Shola Adeluyi, was retained as PRO.
During the inauguration, the National President of APFFLON, Otunba Frank Ogunojemite, enumerated key achievements of the Maritime Advocacy Group in the industry in a very short time of existence. He tasked the chapters Executives and National Officers on diligence and professionalism while urging them to be very useful to their various Chapters.
THE NATIONAL PRESIDENT OF APFFLON,OTUNBA FRANK OGUNOJEMITE, EXCHANGING PLEASANTRIES WITH MEMBERS.
Meanwhile, it is worthy of note that APPFLON, since inception, has not rested on its oars as its ultimate priority has remained the revitalization of Ports Industry.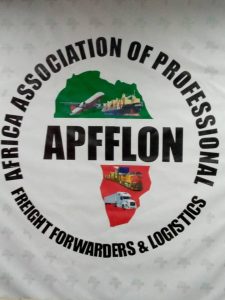 PROUDLY MAJAN !