NPA ETO; FRAUDULENT CONCEPT INTRODUCED TO SABOTAGE NATIONAL ECONOMY —- ENGR. UMEADI
RECENTLY, THE PRESTIGE BLENDED MAGAZINE CREW LED BY ITS EDITOR, MCANTHONY ONUOHA, ENGAGED THE KLT CHAPTER CHAIRMAN OF NAGAFF, ENGR. EMMANUEL UMEADI IN AN EXCLUSIVE INTERVIEW IN HIS LAGOS OFFICE. HE HAD A SWELL TIME TO BARE HIS MIND ON ISSUES BORDERING ON PORTS INDUSTRY AS THEY AFFECT ITS OPERATIONS PRESENTLY. ENJOY !
SIR, WHAT IS YOUR TAKE ON NPA CALL UP SYSTEM,HAS THERE BEEN ANY REMARKABLE CHANGE OR IMPROVEMENT SO FAR ?
ETo died on arrival. It was a fraudulent concept introduced to sabotage the economy; the system had already failed before its introduction.
As far as l am concerned,there was no well thought out plan for its workability in the first place. Asking businessmen and Stakeholders who have legitimate businesses to pay before accessing the ports is quite unimaginable. What do they mean by ETo, l see it as a highly fraudulent concept that should be jettisoned. The authority should as a matter of urgency debunk the kangaroo decision that Freight Forwarders must pay before trucking their consignments out of the ports. Of a truth, should this matter be handled with a pinch of salt, believe you me,it would result to massive protest; and obviously, l see it looming. The new concept is even worsening ports congestion. It is roundly making nonsense of Ease of Doing Business (EoDB).
I still add that whoever that midwived such idea or maybe owing to the fact that Joint Taskforce is making stupendous amounts of money on daily basis,then they resolved to gang up to sell a fraudulent concept called ETo to Maritime Practitioners; to me, it is a colossal economic sabotage being played out in the Ministry of Transportation.
SIR, DO YOU REALLY MEAN TO SAY THAT THE CALL UP SYSTEM IS NOT WORKING?
It is not working, it is a total failure. I repeat, it was an idea midwived to milk freight forwarders and nothing else.
CAN YOU TELL US THE DANGERS THE SYSTEM HAS POSED ON PORTS OPERATIONS?
I implore you to visit some Bonded Terminals and see things yourself. Visit some holding bays as well. How many empty boxes have been taken back to the ports, none. Ships come and go empty because of ETo. Would Shipping Companies pay those that do business with them at the end of the delay because of ETo, don't they know they are businessmen who do plus and minus; and you are asking them to pay before accessing the ports.
Besides, even the truck parks they provided are now high profile Automated Teller Machines (ATMs). Before, truckers used to pay from N1,000 to N2,000 but now, they have callously increased the fees. Do these selfish interests here and there add value to this Government, are they geared towards making the president succeed or towards de-marketing the government and its efforts. I make bold to ask this, and my question goes to those who ganged up to bring ETo. If they really want it to work, let them write to Shipping Companies demanding that Agencies contractors or assignees are duly gazzeted each day as guide to more efficient services, it will set up a system of smooth access to the ports as decorum will be the order of the day, than truckers being allowed to bribe their way in. As a matter of fact, there should be a roundtable discussion to ascertain the best way forward. The NPA knows when ships are due to berth. Shipping Companies should always send them mails notifying them that a certain company representing CMA or any other is bringing a certain number of containers to be moved to China or any other country(s) of origin and make sure it is followed up to the later. You can see that freight is very high at the moment. The volume of containers over there has automatically dropped because of ETo, a lot of empty boxes are starked at the holding bays. If l may represent a particular Shipping Company, say either COSCO or CMA, and l tell my transporters that l need them to lift my containers let's say 400 TEUs to TICT, with this ETo, will it work, no, it is not possible. We have not talked about settlement on the road . Now, it is times three of the suffering. So, who is deceiving who. You see that the agenda is to make money and whoever that midwived that is an enemy of both industry and country. I understand that the operators of ETo are NPA contractors; they have kept adamant, maybe, out of pomposity or ill intent; instead of calling upon relevant stakeholders to put heads together to proffer lasting solutions to the problem; they don't want to do that rather they sit back in their offices looking for ways to advance their fraudulent ideas; and once they come up with a shady one, they introduce it without having a second look at it.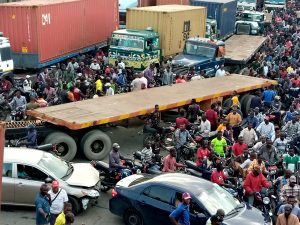 GRIDLOCK ON APAPA PORTS CORRIDOR
I was in the meeting they called earlier, and in that meeting, l found out by their desperation and body movements, that they had already made up their minds to fraudulently rake in money with the concept. They didn't even want to listen to anybody because they had pressed their calculators to see how much they would be making from it. So l see the system as a great economic sabotage; defrauding people and making money for themselves in guise of government agency. They should stop that deceit; trust me, l know that NAGAFF and few other sister associations may be heading to court anytime soon.
Ask importers what they are presently passing through, check out the freight they pay to bring in those containers and you would be surprised. Why, because there are no empty containers over there for imports. It is only Nigeria they use as dumping ground; and while plans were in place to evacuate these empty boxes, they introduced a new system. They accused truck drivers of using the roads as truck parks, and that they were intentionally blocking the ports corridors. It is a big lie because no business man, no genuine Freight Forwarder, no serious importer would want his container to be on the road while losing his container deposit to shipping companies. It is a big lie from the pit of hell. If this things are organized accordingly, the roads will be free for business,and human and vehicular traffic will flow with ease and everyone will be happy; so, they should think wisely.
SIR, APART FROM THIS VERY CHALLENGE OF ETO RIGHT NOW, WHAT OTHER FACTORS ARE MILITATING AGAINST PORTS OPERATIONS, AND THE EASE OF DOING BUSINESS?
For now, none apart from NPA ETo, and mind you, some associations are in court with them. It is like me going to the port in my private vehicle to do business and you order me to pay before accessing the port, what does that mean.
So whoever that introduced ETo should have a second look at it, it has tripled the already existing challenge. It was a kangaroo decision; a gang up for selfish interest and NPA should be called to order and urgently too.
SIR, FROM YOUR OWN OBSERVATION, HAVE BERGE OPERATIONS CHANGED ANYTHING ?
Do you know how many Ships that berth every other day, berge operations alone cannot solve the traffic problem ; if nothing is done on Ports access roads; and if any success must be achieved, both berge operations and road transportation need to be in place.
What the NPA should be doing to ease the congestion is to always get in touch with Shipping Companies; mandating them to gazzete on a daily basis equivalent number of empties to be moved to Countries of origin aboard every available vessel, and they must have to monitor the exercise diligently to ensure compliance, that is the only way this can be done if at all they are serious; rather than allow people to bribe their ways into the ports; even the ETo portal is not working, is not frustrating. One would try to log in for almost the whole day. They are really making things very difficult. All they do is sit back in their offices drinking coffee all day, and won't come up with ideas that can ameliorate the hardships and address the challenges. Is there any law that says you must book and pay before you access the port; it is only here you can see such madness. And they are the ones jeopardizing the efforts of the Federal Government. What they are after is what goes into their pockets and not what accrues to the country.
SIR, THE DWELL TIME OF EMPTY CONTAINERS IN OUR PORTS IS QUITE INDEFINITE SEEING THAT SOME OF THE CONTAINERS THAT CAME IN OVER 5 YEARS AGO ARE YET TO BE EVACUATED. WHAT ADVISE CAN YOU GIVE TO THE AUTHORITY IN THIS AREA ?
The only advice l can give is for them to jettison ETo; they should stop collecting money from operators before allowing them return empty boxes to the ports. Who are they paying these monies to, shipping companies, who are the hardships hitting back at, end users. It is the people that pay this money.
I say again and again that NPA carried out a collosal scam by agreeing to the concept of ETo. Once you log in you will access a wallet for payment and when you pay, there is duration of time and once it expires, you pay again. They didn't even consult stakeholders, to ask of the possible means to get it right. We all believed that ETo was introduced to free the ports access roads of gridlock, but today, what is happening. They are even worse than the presidential taskforce; infact,they are way better than what we are have as ETo.
THIS IS YOUR CONSTITUENCY, KLT. YOU ARE THE THE CHAIRMAN OF NAGAFF, KLT CHAPTER; HOW WOULD YOU DESCRIBE THE SERVICES HERE ESPECIALLY THAT OF BOLLORE. ARE THEY DOING WELL ?
Bollore wants to sees smile on your face as their customer. They have taken the market, but this NPA system is frustrating the business. Bollore is ready to follow you to your doorstep to know your challenges in the course of delivery. But we also know that they have a limit, they are not government and they can't act as NPA, but in all, they make sure you don't experience unnecessary challenges in the course of business. Regrettably, after going through a very well organized system at Bollore to take delivery of your consignment. The fraudulent system called ETo, will definitely frustrate you and mess your job up completely. What business does ETo have here. You want to berge your container to this place you still pay ETo; is that not frustrating. How do you think that business will boom. So, that kangaroo system should be jettisoned.
SIR, YOUR ASSOCIATION NAGAFF HAS A COMPLIANCE TEAM COORDINATED BY ALHAJI TANKO,WHO DOUBLES AS THE NATIONAL VICE PRESIDENT, WESTERN ZONE; AND SOME MEMBERS HAVE KEPT GRUMBLING THAT HE HAS LITERALLY TAKEN AWAY THE JOB FROM THE CHAPTER CHAIRMEN. WHAT'S YOUR TAKE ON THAT ?
I don't think so; NAGAFF is one big family. If l may ask you this question, when you pour water in your palms and turn them upside down what happens. You will lose the water in your palms. So whoever that is saying that is being misinformed and l will say that it is a figment of his or her own imagination. Am l not the one sitting here as KLT Chairman,has he hijacked the office, no. So l want to state categorically clear that if we gather and urinate, it foams. Unity we stand, divided we fall. He has not hijacked anything, and l must say that he is doing his job very well.
WHAT OTHER CHALLENGES ARE YOU HAVING HERE AT KLT ?
You can see that here is very dry, and the problem is ETo, nothing more. Even mini ports that can take some containers to ease the congestion; they stopped every operation till nightfall. Was there any consultation prior to their taking such decision. Some people sit in their offices and make some dangerous decisions and before you know it, they implement them for their own good and nobody challenges them in court; and people pay, who pays, Nigerians, who suffers it , Nigerians, and sometimes the transport Minister doesn't know about such decisions.
SIR, THEIR HAS BEEN A CLAMOUR ESPECIALLY BY YOUR ASSOCIATION NAGAFF, FOR S.O.N TO BE RETURNED TO THE PORTS. WHAT IS YOUR TAKE ON THAT ?
Would you like a situation where by after your container has been duly examined and released, a certain agency stops you on the way to commence another examination. Their coming back to the ports means that there won't be what they call Provisional Release any more. If they are ready to come back to the ports they should allow them to do that ; it will be a plus to Ease of Doing Business.
SIR, WHAT IS YOUR TAKE ON THE FORCEFUL COLLECTION OF TOLLS BY JOINT TASKFORCE ON PORTS CORRIDORS ?
Honestly, if freight forwarders know what they are doing they write petitions against them and get them arrested. These people intercept trucks for illegal tolls even as far as 40km away from the ports. Things have been turned upside down. But Customs know how to manage this issue. It looks like akara business.
SIR, DO YOU THINK THAT THE CALL UP SYSTEM HAS MADE TERMINAL OPERATORS LIKE APMT AND OTHERS IMPROVE ON THEIR SERVICES ?
APMT is benefiting seriously from the fraudulent ETo regime. They are enjoying the game. The worst thing they have done lately is to increase their berging fee even at a critical time as this. What was the calculation before increasing the Berge charges of empty container from N40,000 to N150,000., taking advantage of ETo, is that not high-handedness. They are not ready to work, but they are milking us dry. Was there any consultant with stakeholders. They even worsen matter when it was obvious that freight forwarders were meeting their demand they now increased the charges out of greed. And l believe Shippers Council is not aware, and l have made up my mind to write them, almost 200% increase. Shippers Council should investigate and sanction APMT.