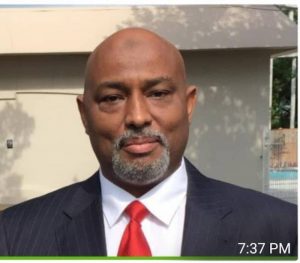 MALLAM FAROUK A. SALIM : DG, CHIEF EXECUTIVE, STANDARDS ORGANIZATION OF NIGERIA (SON)
RECENT CALL FOR SCRAPPING OF SONCAP UNPATRIOTIC —- CONCERNED NIGERIANS
BY MCANTHONY ONUOHA
The recent call on the Federal Government by a group of Maritime stakeholders to scrap Standards Organization of Nigeria Conformity Assessment Programme (SONCAP), is indeed a clamour to return the country to the "Dark Age".
Recall that a group of Maritime stakeholders, made up of freight forwarder s and trade Associations, coordinated by Former President of NAGAFF, Dr.Eugene Nweke, during a joint Press Conference held in Apapa, Lagos, recently, asked the Federal Government to completely scrap SONCAP, urging the organization to come up with acceptable Nigerian Standards for goods manufacturing.
A group under the aegis of CONCERNED NIGERIANS, has expressed dismay over the agitation saying that, "the very first thing is for one to understand what SONCAP is, and its relevance. If at all it is understood we begin to look at it to know whether it needs to be scrapped or enhanced for efficiency and heartwarming results".
"All over the world, there are standards for goods manufactured, either for import or export. Products as well as services have standards. So for any right thinking Nigerian to call for the scrapping of the only medium with which substandard and unwholesome products are put in check is roundly unpatriotic", the group said.
Standards Organization of Nigeria Conformity Assessment Programme has put commendable efforts in seeing that Nigerian Consumers are not exposed to potentially unsafe and sub-standard products.
The SONCAP is a product of Conformity Scheme, whose objective is to help ensure that products exported to Nigeria meet minimum safety requirement. And being Africa's largest market, SON has continued to come up with innovative measures to put in check the influx of sub-standard products not only from Asia, but also from other African Countries; especially as a member of African Continental Free Trade Area (AfCFTA) agreement.
It might interest you to know that SON established a global network of country offices in all the major trading partners of Nigeria. All activities related to SONCAP must be performed in the country of export by the exporter through the country office with geographical responsibility for that country of export closest to the exporter. These are some of the effective measures the organization has fashioned out to forestall the influx of unwholesome products into the country.
Besides, the appointment of Mallam Farouk A.Salim, as Director General and Chief Executive of Standards Organization of Nigeria(SON), is a welcome development. Recently, Mallam Salim declared that manufactures, as well as distributors of Substandard Steel bars in the country risk prosecution and jail sentence.
He made this known in an emergency meeting held at SON's Complex in Lagos, where he appealed to all manufacturers and marketers in the country to put their house in order, as failure to comply will result in prosecution of offenders.
Recall that the DG has issued three months ultimatum to steel manufacturers and distributors, to remove Substandard steel bars from the markets across Nigeria.
As a patriotic Nigerian, the DG is very disturbed about the recent spate of building collapse, which have claimed hundreds of lives, this he said, was a big blow on the nation, especially, the construction industry that the steel industry falls under.
Dr.Obicee Okonkwo, a Maritime guru and Former Publicity Secretary of Association of Nigerian Licensed Customs Agents (ANLCA), when asked his opinion on the recent call to scrap SONCAP, said," no right thinking Nigerian will make such unpatriotic call. Standards Organization of Nigeria (SON), is a very relevant agency that Nigerians cannot wish away. It is a life saving agency and we are all interested in being alive, as well as interested in keeping our properties safe.
" Calling for the scrapping of SONCAP because some people don't really understand the importance of the Agency to Nigerian Consumers is amazing. They should rather come up with suggestions on how to enhance its performance for the betterment of all. We know that in every society, there are people whose stock in trade are nothing but underhandedness; as it is said," in every twelve there must be a Judas".
The Director General and Chief Executive of SON has rolled up his sleeves to work; what he is now saying and ready to do starting from the steel sector, by giving them three months to assess themselves, search themselves,and also evacuate all Substandard Steel products from their shops and warehouses or face the full wrath of the law is commendable. Nobody knows who the next victim of building collapse or fire outbreak is. So when one is calling for the scrapping of SONCAP it amazes me. They should come up with good ideas and solutions to enhance the conformity Assessment Programme,and also begin to do the right thing. To me, it might be that the person or group that called for the scrapping of SONCAP did that out of ignorance or was quoted out of context."
" I wouldn't know about the group, but if l should know, l would also like to find out whether the group or individual was quoted out of context. All over the world, people talk about standards and quality, and a group is saying that the medium and the only mechanism that Nigeria is using to put in check Substandard products be scrapped; l think they need to think again and think right".
"The importance of having SON back to the ports should not be overemphasized, from my own view point as a stakeholder, l have always said that if SON, going back to the ports, would yield great result which l believe it will; in our quest for winning the fight against importers of Substandard products, why not ? The idea of people circumventing procedures of SONCAP and import permits is unacceptable. If we can get it right by putting in place, one stop shop, l think it would be a plus."
Lamenting about the spate of building collapse, during an emergency meeting held at SON's Complex in Lagos, the DG, Mallam Farouk Salim said that one of the things that is giving the organization sleepless nights is the rate at which importers and manufacturers compromise standards, especially those who manufacture building materials, insisting that it is the responsibility of SON to put them in check, and also promised to do everything within his power, to bring the Cartel to book.
He reaffirmed SON's mandate to Foster trade and economic growth, and not impede it. And also stated that the Agency would not allow business persons destroy lives and scarce resources.
On the issue of invading markets to clamp down on manufacturers, distributors and sellers of Sub-standard products, Dr. Obicee Okonkwo said, " The organization is not doing that for corporate gains, but to save the lives of Nigerians . Late Dr.Dora Akunyili, Former DG, National Agency for Food And Drugs Administration and Control (NAFDAC), was raiding markets during her time as DG. And without that, she wouldn't have known the enormity of crimes being perpetrated by peddlers of unwholesome foods and drugs. So without taking action to rid the markets of substandard products, especially building materials, we shall continue to record incidents of building collapse."
"Every Nigerian is a stakeholder as far as standards and quality are concerned, so we should all support the New DG of SON, who has in a very short while shown capacity. SON must be given every necessary support to succeed.