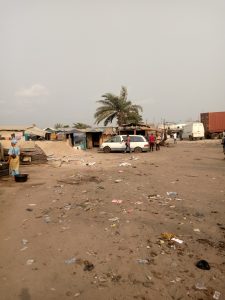 ACROSS: TINCAN ISLAND HOSPITALITY HOT SPOT
By Mcanthony Onuoha
Have you ever been to Tin Can Island Port?
If yes, you might have also overheard one or two persons talk about 'ACROSS', a major hospitality spot directly located opposite the port by waterside.
Your first visit to 'ACROSS' will leave you with mixed feelings of utter excitement and shock due to the kind of commercial activities that take place by the waterside where makeshift kiosks are raised in their numbers. The fact is whatever anyone does at this very spot gears towards making pecuniary gain because nothing is free in this community.
At close of business, young musical arts from different ethnicities do come around to showcase their skills, some play and dance Igbo ogene, while others do free style; some play reggae, some calypso, while many do rap music. All these and more they do to get those who converge on the spot to unwind after grueling working hours entertained; Across is a spot to behold! It is really an entertainment spot where fun seekers interestingly encourage the free-show artistes by spraying them with few Naira notes.
Women of different shapes and sizes are seen dutifully attending to customers, mostly men, who patronize the beer shops as some of them do not leave Tin Can lsland immediately after business without visiting ACROSS to unwind and catch fun, while some go there for their culinary delights as food vendors from divers ethnicities are readily available to attend to anyone that settles under their shed. That is the beauty of Tin Can Island waterside.
The commercial spot became a full blown hospitality centre as soon as the NPA Canteen, adjacent to Tin Can roundabout, was demolished. While some occupants of the demolished shops left Tin Can to start up different businesses at various locations, some of them that have grown their clientele capacity on TinCan Island overtime, went to re-negotiate for land spaces at the waterside. There, they were able to raise makeshift structures and continued their daily sales to make a living, and without doubt, the daily influx of customers into the area has really kept them in business.
It will interest you to know that apart from the sales of food and drinks, businesses of all kinds are carried out ACROSS. It got its name from the Oshodi – Apapa expressway that demarcates the waterside from Tin Can Island Port facility as anyone who wants to visit the community must cross the road to the other side hence the nomenclature ACROSS.
There is no dull moment ACROSS as dockworkers, clearing agents, seafarers, truck drivers as well as sex workers patronize the bustling enclave.
Shop operators and their promiscuous sales girls blast different kinds of music ranging from classics to contemporary to attract customers.
Port users see the place as very lively because of its serenity; while some use the venue for their birthday celebrations, various groups host meetings or gather for other political reasons within the environment. The main reason for such choice is because assorted drinks and culinary demands are readily available.
Besides, items sold here are not limited to edibles alone, quality clothing and shoes,herbal drinks and drugs are also  displayed for sale. Due to the preponderance of sales girls willing to move from the spot to night-clubs and to other places for commercial sex activities, their men counterparts cluster around waiting for such outings.
The environment prepares the ground for drug addicts and ruffians of all kinds; a development that makes anyone within the zone to be mindful of everyone beside him or her.
Nevertheless, good amounts of money leave the pockets of ports users into  the coffers of those doing business by the Waterside on daily basis.
And for the fact that office spaces are very difficult to come by at the commercial enclave, offices are leased by Seaview Properties Limited, a subsidiary of the Nigerian Ports Authority(NPA). Due to the limited available facilities, and the rigorous process of procurement, some clearing agents prefer acquiring a piece of the marshy land, fortify them against flood by laying solid foundations on which they raise good structures for their offices. This trend is increasingly giving the slum environment a facelift.
ACROSS is no doubt, the epicentre of fun in Tin Can lsland .It is unique because of its setting; the community consists of almost every tribe in Nigeria; offering everyone that patronizes the commercial zone varieties of food, drinks, music as well as women; with activities continuing round the clock because of seamless port activities.
Terminal operators, sailors, dockworkers, clearing agents, truck drivers, security personnel as well as Customs operatives on night shift savour food, wine and sex in the area. At night, most sex workers leave their homes for Tin Can lsland and Apapa in search of fun and daily bread. Most of them are patronized by lonely and cold-striken truck drivers whose vehicles are always stuck in gridlock while awaiting access into the port to either load containers or drop empty boxes. These truck drivers need not waste money in hiring chalets as their vehicles provide enough comfort for such show or better still, the empty containers on their trucks provide an alternative. In a worst case scenario, from investigations, empty kiosks by the waterside become hotel suites at night.
According to a seafaring fun seeker, Alfred Udoh, he comes to ACROSS on regular basis to savour the ambience of the slum-turned show centre. He said the place is full of fun in every aspect; hence he usually comes around to enjoy himself.
For Grace Uche, who sells drinks in the area, her life has not remained the same ever since she discovered the place through a friend. She disclosed that on the average, she makes average of  N5,000 daily from hawking drinks.
For Oghene Cynthia, who said she usually comes around at nights to 'hustle', ACROSS has been a great place for her. She confessed that she makes a living from her night business, adding that at times when there is no customer to club with, she could sleep with the truck drivers on traffic queues. Cynthia, who claims to be a part-time student in one of the tertiary institutions in Lagos, told our reporter that she makes between N8,000 and N10,000 daily from her ACROSS escapades.
For James Ogu, a clearing agent, the slum hotspot provides him a rendezvous after a hard day's job. According to him, he goes to the place to unwind and waits for the Apapa stifling traffic to abate before heading to his Ikotun, Lagos, residence.
Like border communities, the Tin Can lsland waterside, ACROSS, is always alive with beehive of activities, most especially on Fridays when fun seekers come from afar to relax and enjoy the sea breeze with friends,and also gets entertained with varieties of music.
As they are entertained by shop owners; men women dance away their grouse as some drink till late in the night before going back to their various destinations.
However, few months ago, a great number of the makeshift structures that formed the greater part of the hospitality spot, raised on over 5 acres of land were demolished by Nigeria Ports authority leaving out very few structures ; and up until this moment, no projects have commenced on the wide espance of land .
If you are a fun seeker, you can explore the bounties of ACROSS to have a taste of the other side of port operations.