EMEKA PAUL CHIEDOZIE WILL REDEFINE LEADERSHIP IN NAGAFF, TINCAN CHAPTER
BY Mcanthony Onuoha
If you want to know a good leader, first of all peep into his private life to know how he has successfully managed his family, business and finances.
It is a fact that some people desperately jostle for elective positions for self aggrandizement while individuals with human agenda humbly present themselves to those who can confidently attest to their benevolence, those who know their source of livelihood and their level of success and are roundly convinced of what they are capable of doing, who in turn, entrust them with their mandates via the ballot.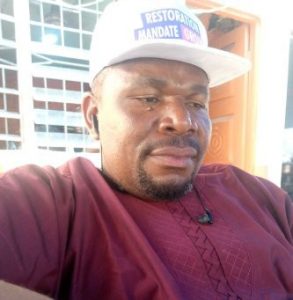 Emeka Paul Chiedozie , MD/CEO, SEAGOLD MARITIME SERVICES LIMITED, has a proven record of successful business management, a Maritime Unionist and philanthropist, Chiedozie has in all shades and colours remained a stickler to fairness and equity, his open mindedness has truly endeared him to myriads of people not only in the Maritime sector but also to those whose paths had at one time or the other crossed with his.
As members of National Association of Government Approved Freight Forwarders (NAGAFF) set to elect new executive officers in all the Chapters across the Country, Tincan Chapter, which is one of the foremost Chapters needs someone like Emeka Paul Chiedozie to administer and reposition it for freight forwarders' benefits.
As someone who has garnered a lot of experience as a field worker, the belief of every NAGAFF member is that Emeka Paul Chiedozie will make positive impact as Chairman, NAGAFF TINCAN CHAPTER , and that is why those who had the intention to contest against him had no better option than to drop their ambition to endorse his candidacy knowing full well that it would have amounted to a sheer waste of time and resources to pitch their tent against a candidate who enjoys overwhelming admiration and support of professional colleagues and industry stakeholders.
Hate him or like him, SEAGOLD has become a household name on Tincan Island, he is like the gold fish that has no hiding place, and that is because of his good sense of humor, commendable level of socialization, good courage, self comportment and his unwavering stance for fairness and justice.
This time around will usher in a new opportunity for NAGAFF TINCAN CHAPTER to flourish again with the welfare of its members given top priority. Indeed, Emeka Paul Chiedozie (SEAGOLD) era will reunite NAGAFF TINCAN CHAPTER and collapse artificial boundaries demarcating a group of people that are supposed to be bound by a single name and shaded by a single large umbrella; his administration will tear into shreds umbrellas erected by parallel interests and ambition within NAGAFF TINCAN CHAPTER, like the INTEGRITY GROUP AND DIVINE MANDATE Group and bring every member into the supposedly "one family" which is part of its slogan.
There is no gainsaying the fact that the past Chairman of NAGAFF TINCAN CHAPTER did not make himself available to those he was to provide leadership for, there was a wide space between him and members, their welfare was not part of the agenda, and instead of open door policy, it was a close door policy, and that only succeeded in bastardizing the whole essence of leadership and Emeka Paul Chiedozie will not uphold such policy.
There are strong reasons why professionals in every field align with their colleagues either in the association or union and some of such reasons are for protection of interest, soliderity and welfarism and NAGAFF TINCAN CHAPTER, under the chairmanship of Emaka Paul Chiedozie will not fall short of members' expectations in those areas of utmost concern.
SEAGOLD, in one of his interviews with The Prestige Blended Magazine said, " l possess great leadership qualities, that, l know too well. I relate very well with people and l have great respect for humanity regardless of age or status. I call a spade a spade and those qualities always reflect in my relationships with my colleagues, Customs and Government agencies in the course of my professional duties, by the grace of God those qualities have contributed in making me the person l am today, that's the truth".
" I am a philanthropist, l learned that from my uncle, Dr. Boniface Aniebonam who remains my mentor, l don't eat alone, and l am highly detribalized . All my staff are doing well, you can make inquiry to know the truth. Apart from that, as per NAGAFF, l have single handedly done a couple of good things without making a noise about them, l am not the lousy type , not everything l do l announce, those who know me very well can attest to that".
" By the grace of God l am going to bring a new impetus to NAGAFF TINCAN CHAPTER, l am equal to the task, l will run an open door policy and will provide that quality leadership that members earnestly yearn for, l am simply saying that it is a new dawn for NAGAFF TINCAN CHAPTER."
" Most of the issues bordering on Customs – Agents relationship will be expressly addressed, the welfare of our members will be prioritized and those that had lost interest in their membership will see reasons to renew their interests once again."