DUPLICITY OF TABLES BY CUSTOMS IS NOT ENCOURAGING FREIGHT FORWARDERS
—- GREG EMEKA MBACHU
Freight Forwarders and Licensed Customs Agents have been facing a lot of operational challenges due to very harsh economic policies and unparalleled inflation which has grossly affected not only importation but even end users of the products. Prices of goods and services have gone hirewire as Nigerian masses are left to their own fate.
In this interview with the Prestige Blended Magazine, the Public Relations Officer of Association of Nigerian Licensed Customs Agents- ANLCA, Apapa Chapter, Mr. Greg Emeka Mbachu, speaks on some of the challenges bedeviling the Practitioners, the impunity and excesses of shipping companies, terminal operators and the Nigeria Customs, not excluding ANLCA crises and how it has affected ports operations and policies .
Enjoy the excerpt !
CHALLENGES FACING FREIGHT FORWARDERS PRESENTLY: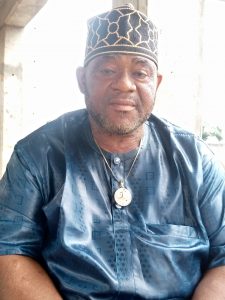 Our challenges are multiple, it is not two neither is it three, we have myriad of them, all the Ports Commands are affected. I am not talking of the particular command which l am the Chapter PRO of ANLCA, but the ports generally, because what is happening in Tincan is happening in PTML as well as Apapa, none is exempted. A situation whereby you capture a job, and before you say Jack Robinson you begin to see multiple alerts on the job; Valuation alert,CPC alert, Headquarters alert and SON alert on one job. And as a matter of fact, we have a particular benchmark. What we were paying prior to this time was 2.5million, from there, they raised it to 3.5million, from there it was raised again to 4.5million and from there to 6.5million and that is what we are paying presently irrespective of what one is carrying. As it stands, you don't know exactly what to charge for a particular container, we are just loitering in the port. Customs came and duplicated a lot of tables, which is not proper, and since we have the Valuation Unit whose job is to work out the duty value for all imports, no other Unit has the authority to generate any other value for cargo except that particular Valuation Unit. As soon as you capture your job and any issue arises, it should be referred to the Valuation Unit, it is the only Unit that has the right to address such matter. But in this case, Compliance Unit and the CIU also raise Debit Notes (DN). Why can't we have a particular Unit that raises DN if there is any need for that. There are some containers that even pay that 6million plus and still placed on alert, and they also issue DN on it. I have never seen where a 1×40 feet container after paying 6million plus would be issued another DN to make it N10 million plus. What we are seeing today is really disheartening, it has never been this bad.
At the exit gate when a container has been released to go, if the Enforcement unit doesn't chase after it to stop it at the gate and raise DN, the officers at the gate will stop the container and raise DN. Things are not done that way. Multiple tables in the ports is not encouraging.
IS IT THAT THE FEDERAL MINISTRY OF FINANCE AND THE NIGERIA CUSTOMS DON'T CONSIDER THE PLIGHT OF IMPORTERS AND FREIGHT FORWARDERS?
The problem is the internal crises that is bedeviling ANLCA all these while, and Customs is using it to their advantage. When these squabbles were not existing; these kind of humiliation we face in the hands of Customs today were not there, we would have resisted them even to the extent of moving down to Abuja to call the attention of the authorities to them. As it is presently, the union is not helping matters, individuals are suffering in the hands of Customs. If you can have a job you don't know what to charge and can't take delivery of you consignment within 2-3 days, so what are you doing in the port, who is expected to take such matter to the Area Controller or to Abuja if not the Union, and since the Union is in crises, who takes up such responsibility, that is why we are being extorted and humiliated by Customs and other agencies at the Ports.
WHAT ARE OTHER ASSOCIATIONS DOING TO BRING THESE ISSUES TO THE GOVERNMENT SINCE IT IS NOT ONLY INCUMBENT ON ONE PARTICULAR ASSOCIATION?
We have almost five sister Associations, NAGAFF, APFFLON, NCMDLCA, ARFFN and NAFAC, but ANLCA as the foremost association has a unique role to play, if it doesn't take action others won't react appropriately. Now that the association is having issues, it is affecting every body in the port, and the crises of ANLCA is the major reason we are experiencing all these harsh and unfriendly treatments we are currently experiencing.
ON SHIPPING COMPANIES AND TERMINAL OPERATORS
Frankly speaking, they are not doing well, for example, A.P. Moller. Several times we have cried out for them to amend their ways but they continue with their very annoying system of operation. If you book your container for examination, on the actual date of the examination you would find out that the container is not dropped, if it is dropped after two more days, they still charge you demurrage . The lapses is coming from them, they are always eager to collect container deposit, you can not release your job without paying container deposit and when you deliver the container and drop the empty, for you to get back your refund becomes a very big issue, it takes up to two to three months to get your refund , you keep on going, keep on writing, keep on knocking and kicking , no body answers you. All those things happen because the union that should have called them to order is enmeshed in crises. If ANLCA has been in harmony all that wouldn't have been happening. We would have known how to confront them. We would have definitely known how to go about it. Obviously, things have fallen apart and the center no longer holds. But l hope that sooner than later, the issues in ANLCA will be settled; it is a family affair. Series of meetings with concerned authorities within the Maritime sector , the Minister of Transportation has really stepped in, even the CRFFN is using its internal mechanism to see how peace can return to ANCLA in no distant time. I strongly believe that every issue will be resolved. Whatever that has a beginning has an end . It is a brotherly issue and since it is a family issue, we are going to put it to rest.
WHAT EXACTLY CAN YOU SAY IS FUELLING THE CRISES, CAN YOU BLAME IT ON EXTERNAL INFLUENCE ?
I strongly believe that some elements from our sister associations are complict in the entire imbroglio. They are doing the best they can to see that the crises in ANLCA continues since it is to their advantage. Some of them are enjoying the crises. It is a game. When ANLCA is in crises you see them moving up and down as if they are working for the rest of us while as they are trying to line their individual pockets. These people are not helping matters at all, that is why l said we will resolve the matter to their chagrin.
ON THE APAPA GRIDLOCK
It is getting worse, there is no improvement. Go to Commercial Road Apapa and see how trucks laden with containers keep falling every now and then due to bad road. The gridlock is still there in Apapa, there is much work to do in Apapa to make sure that goods exited from the port get to the final destinations in good condition. You pay shipping company, pay terminal charges, release job from Customs at the end of the day you lose your goods on your way to the warehouse due to bad road. And as soon as it happens, the entire axis is a no go area. Other trucks following behind are trapped that it could take two or three days to move from that particular spot. So government should intensify efforts in tackling the challenge. After every unit has collected their money in the port, whatever you see on the road you face it all alone, and the importer could end up taking the agent to the Police to press charges against him, and in most cases he loses that importer. We are begging the authorities in charge to please address the challenge.
ON FEDERAL OPERATIONS
The Federal Operations Unit of the Nigeria Customs has no right to mount a road block in front of the Port. Containers examined and duly released by a Deputy Comptroller of Customs is intercepted by a 2Star officer, sometimes a One Bar officer stops it and begins to query the job, and before you know it the container is taken to Federal Operations in Ikeja where another round of examination is conducted. It is quite appalling for Federal Operations to intercept a container heading to its final destination having duly released and exited by the same Customs. Sometimes they open your container on the road, it's totally unacceptable, l don't think such act of impunity is provided anywhere in CEMA Law. It is condemnable, it is not acceptable.
ADVISE TO ASSOCIATIONS
I would advise them to discard their differences and always sing with one voice. Discordant voices can not help matters. If we sing with one voice all these problems and challenges we are facing in the ports will not be there. If we sing with one voice we achieve more, we will kick against bad treatment and cut down the excesses of shipping companies, terminal operators and other government agencies in the port. The divergent voices from the associations have been the clogs in our collective wheel of progress as practitioners. Let's unite and sing with one voice because we will be better off in unison.