REFUSE OBI PARTY TICKET AND LOSE OUT ; GROUP TELLS PDP
* Says it will use a Third Force Political Alliance to fight for the soul of Nigeria if Obi is refused ticket
By Mcanthony Onuoha
As political consultations and horse trading by aspirants for 2023 presidential election continue making headlines, a group has dared the People's Democratic Party(PDP) to deny a presidential aspirant, former Governor of Anambra State, Mr. Peter Obi its ticket and face unprecedented rejection at the polls.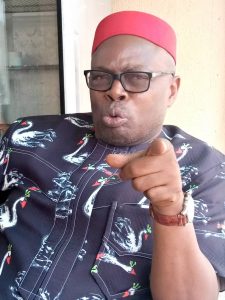 DR. BASIL NWOLISA, CHAIMAN POSG
Rising from a crucial meeting in Lagos on Sunday the 24th of April, 2022, the Chairman of PETER OBI SUPPORT GROUP ( POSG) Dr. Basil Nwolisa, while addressing Newsmen, disclosed that the group has taken a very strong decision to reject the PDP at the polls if it does not listen to the yearnings of Nigerians and go ahead to deny the People's choice, Mr. Peter Obi its ticket for the forthcoming presidential election.
Speaking further, Dr.Nwolisa said that POSG was ready to mobilize Concerned Nigerians that are desiring to see a Nigeria of their dream, to fight for the soul of Nigeria, he said that the group was ready to form a Third Force Political Alliance to achieve that, adding that the Nigerian masses are earnestly yearning for Peter Obi as he is the only aspirant that has the solution to Nigeria's myriad of problems.
According to the Chairman of the group, " Nigerians will not continue standing aloof while their loved ones are being cut down in their primes by bandits on daily basis, we are sick and tired of the rot in the system, endemic corruption, epileptic power supply, unemployment, poor health sector,etc. The occupation of political offices by non performers and people of questionable characters must stop for Nigeria to take its rightful position in the comity of Nations."
"PETER OBI SUPPORT GROUP (POSG) is made up of millions of concerned Nigerians that are passionately yearning for paradigm shift, Nigerians, especially youths who strongly desire a total departure from the charade that has been taking the place of true governance for over six decades now. A wonderful opportunity in the person of His Excellency, Mr. Peter Obi has presented itself to Nigerians of which failure to grab it will take us 30years backwards."
"Today, POSG is calling on the People's Democratic party (PDP) to heed to the voices of reason and give Nigerians their desired candidate for 2023 Presidential election and that candidate is no other than Mr. Peter Obi, we believe that with him as Candidate, the Party will beat the APC at the polls come 2023."
" The POSG will synergize with concerned Nigerians to mobilize a Third Force Political Alliance to fight for the soul of Nigeria if the PDP denies Peter Obi its presidential ticket, Nigeria can not continue to head in the wrong direction while we have a tested and trusted leader like Mr.Peter Obi."
"Our desire for good governance is not triggered by sentiment but the present political reality, every reasonable Nigerian knows that at this point in time what we need is someone with outstanding leadership ingenuity, someone who can unite the country, we need a leader that will transform Nigeria and position it to take its rightful place in the comity of world's great Nations and that leader remains Mr. Peter Obi ", the group insisted .