ASIMPIN CAUTIONS ANIEBONAM OVER PLOY TO BALKANIZE THE ASSOCIATION.
*** Says intrusion can not deter the leadership
***As stakeholders condemn divisiveness
By Mcanthony Onuoha
The leadership of Association of Igbo Maritime Practitioners in Nigeria- ASIMPIN, has reacted to the recent circular sighted on social media platforms, released by the Founder of National Association of Government Approved Freight Forwarders-NAGAFF, Dr. Boniface Okechukwu Aniebonam, inviting "founding members and leaders of thought" to a crucial meeting today, the 11th of April, 2022, at NAGAFF Headquarters.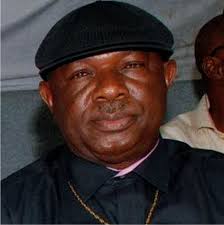 FOUNDER OF NAGAFF, DR. B. O. ANIEBONAM
In a press release signed by the SSA Media to the President General of ASIMPIN, Sir Godfrey Emeka Nwosu and made available to the media, which partly reads, "the attention of HRM Eze Amb. Damian Emeka Obianigwe KSM., Ezeoha Obi of Isi Ihiteowerri, to the purported meeting being organized by a group identified as ASIMPIN Elders Forum, a council whose constitution remains questionable; elders in Igbo cosmology are men of wisdom whose chief concern are peace, rectitude and prudence as these attributes are visibly deficient in the proponents of this purported council of Elders."
" Eze Damian Obianigwe does not give a whimper over such grandstanding of a fathom group of self glorifying persons known as elders".
In the Circular emanating from the desk of the Founder of NAGAFF, it is clearly stated that "the Founder of NAGAFF, Dr. Boniface Aniebonam, has accepted to help resuscitate Igbo Maritime Forum, it is a fact and on record that the essence of Igbo Maritime Forum is to serve as a common ground for all Igbos in the Logistics Chain and Customs facilitation to meet and discuss Practitioners' interest, that of Igbo traders and Nigeria as a country. But regret to note that for the past ten years it appears that certain individuals may have captured the forum and changed the nomenclature to ASIMPIN. This development tends to change the whole essence of Igbo Maritime Forum agenda and which does not protect the interest of the Igbos in the Maritime Transportation and Customs facilitation".
In reaction, the ASIMPIN leadership advised members not to take seriously the the grandstanding posture of a fathom group of self glorifying persons known as Elders. The association berated the "self aclaimed" Coordinator of the Elders Forum, Chief Austin Kelly, reminding him and his co-travellers of their late intervention and advising genuine ASIMPIN members not to be cajoled into chasing shadows as Doctor Aniebonam's sudden interest in ASIMPIN would come as a rude shock to those who know the stance of the Founder of NAGAFF on ASIMPIN.
On change of leadership, the Association disclosed that "HRM Eze Damian Obianigwe has since taken steps towards constituting a committee to organize elections in the nearest future". And assured that "HRM Eze Damian Emeka Obianigwe, Obi of Isi Ihiteowerri, will certainly keep hope alive and stand our great Association on a solid ground better than it were from foundation."
Meanwhile, reactions from some freight forwarders on monitored social media platforms as regards the invitation by the Founder of NAGAFF tilted in the direction of vehement condemnation as some of them described the move as a ploy to balkanize the association. One of the participants that commented on one of the platforms expressed sadness over what he termed as unnecessary meddlesomeness questioning why people derive so much joy in splitting up than in unifying.
Another participant, a freight forwarder, in his comment, admonished the Igbos to always come together to chart a common front saying that divisiveness has never aided significant growth and progress.