CRFFN ELECTION: CREFFPON DEBUNKS NWEKE'S INVITATION TO SECRET MEETING
*** Cautions peddlers of fake news
By Mcanthony Onuoha
The Congregation of Registered Freight forwarding Practitioners of Nigeria- CREFPPON, has debunked rumors that Former National President of National Association of Government Approved Freight forwarders- NAGAFF, Chief Dr. Eugene Nweke, declined invitation by NAGAFF High Command to a secret meeting.
The secret meeting was said to have been planned to work out modalities that would see NAGAFF candidates for the CRFFN Governing Board Election coasting to victory at the end of the day.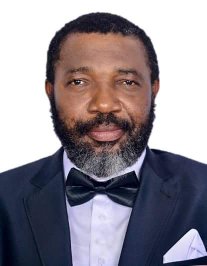 CHIEF DR. EUGENE NWEKE, FORMER NATIONAL PRESIDENT OF NAGAFF
Recall that Chief Nweke earlier indicated his interest to contest in the election as an independent candidate ; but decided barely two days ago, to honourably withdraw from the race citing a plethora of reasons.
The withdrawal notice was contained in a letter he addressed to the office of the Hon. Minister of Transportation, Rt.Hon. Rotimi Chibuike Amaechi, dated 7th March, 2022.
Meanwhile, in a press release signed by Pastor Edwin Chukwudire- Obi, on behalf of CREFPPON, and made available to the Media, the Maritime Advocacy group stated that, " CREFPPON has received with embarrassing shock, news making the rounds on social media, that one of the veterans of freight forwarding subsector, a man of integrity and a vocal activist of the Zapatismo ideology which CREFPPON represents, was alleged to have snubbed a secret meeting called by NAGAFF for those contesting the fluttering CRFFN election under her umbrella."
It continued, " The CREFPPON movement would have overlooked this baseless and unfounded press insinuation by merchants of falsehood whose stock in trade is to promote hate among industry stakeholders and to smear the hard earned professional image of a man like Dr. Eugene Nweke, and others. To set the records straight for objective reasoning practitioners in the industry, it becomes expedient that the CREFPPON movement should debunk this infantile lies with verifiable facts for future reference."
"For avoidance of doubt, Dr. Eugene Nweke, at no time indicated interest to contest the CRFFN board election under NAGAFF or under any other registered or unregistered association promoting the outdated and opportunistic 6:6:1:1:1 formula, which was created arbitrarily to benefit a few self seeking people in the industry whose main target is to share the Port Operating Fee(POF) paid by practitioners they care less about their welfare."
" It is on record that Dr. Nweke only indicated interest to contest the CRFFN board election as an independent candidate. Not only that, he coordinated other independent candidates to fight for their rights to contest in the election. It's now in the public domain that Dr.Eugene Nweke voluntarily withdrew his interest to contest the election when he observed to his chagrin that the preparation for the election lacked integrity and was void of ethical standards expected to produce a credible election result".
However, Chief Eugene Nweke in his withdrawal letter expressed palpable fear about the shabby and non- transparent processes preceding the CRFFN election.
In his words, "what manner of professional credibility can an electioneering process earn when proofs for tax payments and other professional indices required to accredit contestants were compromised by the organizers? So, not wishing to be associated with or enmeshed in an election that lacks professional credibility, and which holds no future for the advancement of the welfare of industry practitioners, l hereby temporarily withdraw from the election pending when a credible election will be organized."
According to CREFFPON, " with the hyped lies flying against him( Dr.Nweke) in the social media, it behoves readers of this press statement to reflect on the above facts and draw an objective conclusion whether he actually snubbed NAGAFF invitation to the so called secret meeting or not. No doubt, the insinuation was an idle creation of the naive imagination of sycophants and peddlers of cheap lies who are looking for peanuts as compensation from their paymasters in the industry, but they have failed and will always fail."
"Of a truth, Dr. Nweke has no need whatsoever to attend any secret or open meeting with any association or individuals, having voluntarily withdrawn from the contest for personal reasons."
" Therefore, the CREFFPON movement which Dr. Eugene Nweke is part and parcel of, wishes to call on all his admirers and members of CREFFPON movement across board to ignore forthwith,this concocted lies and remain focused as they join hands with CREFFPON to find credible and lasting solutions to improve the man made operational bottlenecks being experienced in the freight forwarding subsector."
" So far, CREFFPON wants to thank all her members and admirers for their resilience and support for the Zapatismo ideology which the movement represents."