FWDR. EZE UCHENDU TAKES SON TO CHURCH FOR BAPTISM AND DEDICATION
By Mcanthony ONUOHA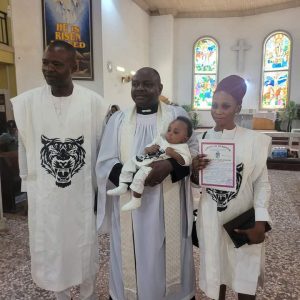 THE UCHENDUS WITH THE OFFICIATING PRIEST
On Saturday, 29th of May, 2021, the Vice Chairman of Apapa Chapter of National Association of Government Approved Freight Forwarders (NAGAFF), and MD, CEO, Chris Chendus Nigeria Limited, FWDR. Eze Uchendu, and wife Mrs. Roseline Uchendu, were accompanied by family members, friends and well-wishers, to Anglican Church of Messiah, Ago Palace, Okota- Lagos, for the baptism and dedication of their son, Master Mmezuokwuchukwu David Uchendu to God Almighty.
The church Service was well attended by members and friends of Fwdr. Eze Uchendu from different Christian denominations.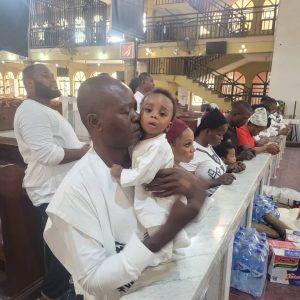 The event which was slated for 29th and 30th of May, 2021, drew quite a good number of guests to the private home of the maritime practitioner, who was in a very joyous mood welcoming and attending to everyone.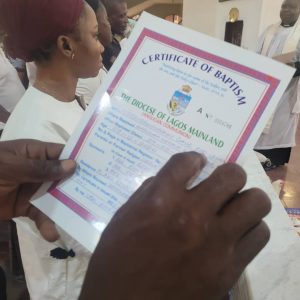 Fwdr. Uchendu who is known for his hospitality and large heart, has been playing host to myriad of friends and business associates since the arrival of his son in December 2020. The ceremony that marked the arrival of the baby in December, lasted for 9 uninterrupted days.
FWDR. EZE UCHENDU AND WIFE, MRS. ROSELINE EZE UCHENDU
Addressing the guests , Fwdr. Eze Uchendu, who was in the best of moods, advised those expecting God's intervention in their lives to do that with cheerfulness and perseverance. He held the audience spell bound as he made Bible references to buttress his testimonies and admonitions.
GUESTS AT THE EVENT
Guests were treated to delicious meals expertly prepared by professional caterers, as well as assorted types of drinks.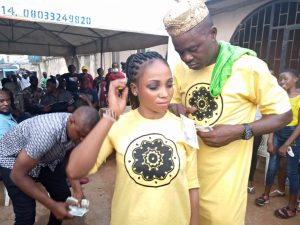 In his vote of thanks, the elated Eze Uchendu expressed gratitude and great appreciation to everyone who graced the event, passionately handing them and their families over to God Almighty for protection.