APFFLON CONDEMNS 50% INCREASE IN HANDLING CHARGES BY PTML
*** ACCUSES ASCANIO RUSSO OF CONSPIRACY
*** DISSOCIATES SELF FROM ITS ENDORSEMENT
*** PETITIONS THE NIGERIAN SHIPPERS COUNCIL
BY Mcanthony ONUOHA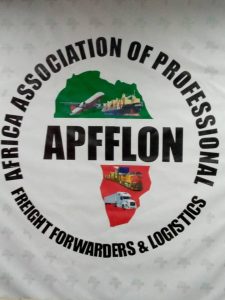 The recent endorsement of Ports and Terminal Multipurpose Limited (PTML), 50 percent increment in handling charges by some groups of Freight forwarders has been vehemently opposed by Africa Association of Professional Freight Forwarders and Logistics of Nigeria (APFFLON).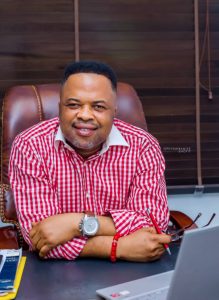 OTUNBA FRANK OGUNOJEMITE, NATIONAL PRESIDENT OF APFFLON
The management of PTML, after days of halting business activities which kept thousands of clearing agents who were eager to take delivery of their vehicles stranded at the company's vehicle and cargo exit gates, came up with 100% increment in handling charges which was later reduced to 50% after deliberating with the leaderships of various associations at the Chapter.
The Prestige Blended Magazine learned that the leadership of Association of Nigerian Licensed Customs Agents (ANLCA), PTML Chapter, that of Association of Registered Freight Forwarders of Nigeria (ARFFN), as well as National Association of Government Approved Freight Forwarders,(NAGAFF), were in a meeting with the management where the trio prevailed on the management to consider 50% increment instead of 100%.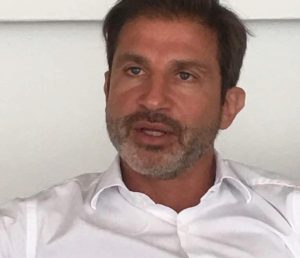 MR. ASCANIO RUSSO, MD, PTML
The joint communique which was made available to Journalists after the meeting reads," that the initial plan of 100% increment by Grimaldi was considered but due to the effect it would have on the importer 50% increase was agreed instead".
The communique stated that, " after a thorough explanation by the management of Grimaldi Agency (owners of PTML Terminal), on the urgent need for this increase, 50% was considered to be reasonable".
" That the acceptance of this increase is based on the ever rising cost of operations as can be seen by every one in the industry."
Stating its position, APFFLON, through its National President, Otunba Frank Ogunojemite, dissociated itself from those who accepted the 50% increase, saying that APFFLON as an advocacy group cannot be part of any arrangement that would add more pains on freight forwarders. He condemned the increment and any other one being planned by either shipping companies or terminal operators at a time of obvious economic hardship fueled by Covid-19 pandemic.
The association faulted the MD, Of PTML, Mr. Ascanio Russo whom it said has conspired with other terminal operators to carry out what it described as a wicked ploy to inflict more hardships on the citizenry via arbitrary charges that could result to loss of jobs and capital flight.
In his words," APFFLON cannot be part of any ploy to further impoverish the citizenry and we will always kick against attempts targeted at inflicting more economic pains on clearing agents, they are presently going through a lot, from bad state of ports corridors to arbitrary charges, high-handedness to impunity and mindless extortion to unwarranted humiliation by personnel of various Agencies within the sector . What we should be expecting is improved working condition and modernized working environment not arbitrary charges and random extortion."
Otunba Ogunojemite condemned the justification of the increment by those who attended the meeting due to the singular reason that the company has not come up with any increment for a long while but insisted that 20% increase would have been better and not 50% .
The group warned shipping companies and terminal operators on continuous extortion from freight forwarders via arbitrary charges and avoidable bottlenecks which they create out of greed and avarice.
Nevertheless, the advocacy group has petitioned the Nigerian Shippers Council (NSC), on the high-handedness of Shipping companies urging it to boldly take up its responsibility as the ports economic regulator and rescue importers and freight forwarders from the wicked claws of economic saboteurs.