PRINCE ODUNTAN HONOURED AS PRESTIGIOUS MARITIME PERSONALITY
… Tasks The Maritime Media On Verifiable Reportage
By Mcanthony Onuoha
The National Vice President of Association of Nigerian Licensed Customs Agents- ANLCA Prince Segun Oduntan, has been honoured as Prestigious Maritime Personality.
The MD/CEO of SETTLE SYSTEM Nigeria Limited, seasoned Customs Broker and Shipping Consultant, was on the 6th of October, 2023, presented with the Prestige Blended Magazine Great Achiever's Award as PRESTIGIOUS MARITIME PERSONALITY.
The recognition was in line with the resolution of the media outfit to honour and appreciate personalities who have distinguished themselves not only in their fields of endeavour but also in their humanitarian dispositions, passion for what they do, consistency, leadership ingenuity and patriotism.
The Maritime Practitioner received the honour in recognition of his laudable accomplishments as a unionist and sole proprietor, his contributions to the maritime industry as an advocate of Ease of Doing Business and his professionalism as Customs Broker.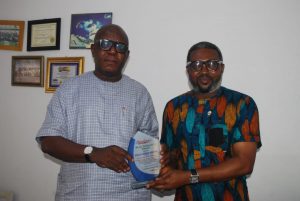 Prince Segun Oduntan, who was also the Chairman of ANLCA, Tincan Chapter, for eight years, did not only prove his mettle as a leader, but etched his name on the marble as one with orchastrated abilities as well as passion for excellence.
His accomplishments as Customs Broker and Shipping Consultant is quite humongous and very evident for everyone to see, hence the recognition.
In his reaction, the National Vice President of ANLCA thanked the media outfit for the honour. He urged maritime reporters to always come up with balanced and verifiable reports, stressing that it was one of the ways a reporter could show professionalism.
On the successful resolution of ANLCA crises, Prince Oduntan appreciated God Almighty and everyone who played one role or the other towards achieving the noble feat. In his words, " there is nothing like peace, and there can never be progress where there is no peace and unity. Returning ANLCA on the part of peace was not a tea party. A lot went into it.
The crises did not only affect the association but the entire Port industry. Maritime practitioners were subjected to unnecessary hardships, no body was speaking on their behalf as things practically fell apart.

Today, on behalf of the National President of ANLCA, Chief Emenike Nwokeoji, l want to reassure everyone of his readiness and determination to seeing that the foremost maritime umbrella body in Nigeria reassumes it's rightful position, not only in Nigeria, but in the comity of other maritime associations," Oduntan stated.