CHIEDOZIE HONOURED AS PRESTIGIOUS MARITIME ENTREPRENEUR
By Doreen Mcanthony
The Executive Chairman of National Association of Government Approved Freight Forwarders- NAGAFF, Tincan Chapter, Fwdr. Emeka Paul Chiedozie, has been honoured as PRESTIGIOUS MARITIME ENTREPRENEUR.
Chiedozie, who is also the MD/ CEO, SEAGOLD MARITIME SERVICES LTD., received the honour at a colourful event held at NAGAFF, Tincan Chapter Secretariat on Thursday, from GREENDOREEN MEDIA SERVICES, Publishers of The PRESTIGE BLENDED MAGAZINE Online and print.
The honour is in recognition of his accomplishments as a sole proprietor and his contributions as a maritime unionist and seasoned freight forwarder.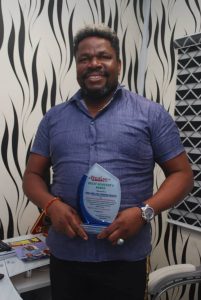 Presenting the plaque, the MD/ CEO of Greendoreen Media Services Ltd and Editor of The Prestige Blended Magazine Online and print, Mr. Mcanthony Onuoha, said that the honour was in line with the resolve of his media outfit to recognize those who have distinguished themselves in their various fields of endeavour,especially, in the maritime industry. He stated that the recognition was also in commemoration of the 10th anniversary of the media outfit.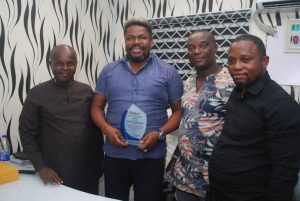 Receiving the plaque, the Tincan Chapter Chairman of NAGAFF expressed his delight over the recognition, he appreciated the Management of the media outfit and urged the team to continue adding value in the area of personality profiling and projection of individual freight forwarders and Customs licensed agencies. Chiedozie described The Prestige Magazine as one of the most flamboyant journals in the maritime industry, and urged the team not to relent in their efforts.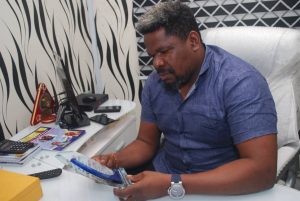 Chiedozie, who narrated briefly how he ventured into the maritime industry as a freight forwarder, recalled with nostalgia his challenges, including the not-too-good experiences as a young man who had no choice but to go all out in search of greener pasture. He expressed appreciation to God Almighty, to Mr. Ifeanyi Nzegbunam, his in-law, whom he said, inspired him a lot. He immensely appreciated the Founder of NAGAFF, Dr. Boniface Okechukwu Aniebonam, whom he described as his role model. According to Fwdr. Chiedozie, " Dr. Boniface Okechukwu Aniebonam, for me, is a demigod, he is an exceptional personality, so transparent. He is a leader that receives everyone regardless of status. Tell him something against anybody and he will call that person and say 'this is what this person said about you, is it true?' He doesn't gossip and does not give room for that. Dr Aniebonam inspired me so much. 99% of people from my home town were brought into the industry by him. When he was in Ojokoro Cement, he made a lot of people what they eventually became today. He accommodates everyone, highly detrabalized; a great philanthropist and  lover of peace. May God Almighty keep him and grant him grace for longevity in good health happiness and prosperity," Chiedozie prayed.
Fwdr. Chief Emeka Paul Chiedozie is married to delectable Mrs. Nancy Chiedozie, and they are blessed with very lovely children.