OJO FEDERAL CONSTITUENCY WILL BE BETTER REPRESENTED BY HON. FELIX ONWURAH
The best job goes to the person who can get it done without passing the buck or come back with excuses.
As the clock keeps ticking, drawing near the date and time for the presidential and National Assembly elections which are slated for the 25th of February, 2023, millions of Nigerians will troop out across the 36 States including Abuja, the Federal Capital Territory, to cast their votes for their preferred candidates vying for various political offices on different political platforms.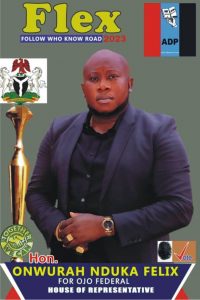 And when Ojo Federal Constituency is mentioned, the candidate of Action Democratic Party- ADP, Hon. ONWURAH NDUKA FELIX, comes to mind.
Humility personified and highly detribalised, a philanthropist, astute businessman and firm believer in good governance, the ADP Candidate towers higher in unique leadership qualities than his opponents if placed in juxtaposition.
It is a verifiable fact that Ojo Federal Constituency has never been blessed with a patriotic and passionate Representative since 1999 as most of the Communities are in distress as government presence is never felt in any form or shape. Some Communities are in dear need of good roads, health centers and educational facilities. Hon. Onwurah Nduka Felix is that man that will make all the difference. A grassroots politician who sees occupation of political office as an opportunity to serve and not for self aggrandizement, the youthful ADP Candidate will prioritize the welfare of the youths and the elderly in Ojo Federal Constituency having before now, commenced a couple of humanitarian projects aside capacity building programs in which a good number of people are already benefiting from.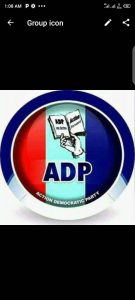 Hon.Felix single handedly built and donated a Police Station at Ketu, he has also at different times donated Transformers to some Communities and sent a good number of less privileged children to school.
Truth be told, the crop of leaders that have consistently dotted our political space since the inception of democracy gives one every reason to always look up for the right meaning of "leadership and representation in the dictionary. Even at that, l make bold to recommend Hon. Onwurah Nduka Felix, the candidate of the Action Democratic party -ADP, a true Democrat and fine gentleman to the good people of Ojo Federal Constituency. If elected, Hon. Felix will outperform all his predecessors because he knows that every Representative has those he represents unlike those who have consistently failed in every aspect of representation.
Good people of Ojo Federal Constituency, on Saturday the 25th of February, 2023, do not look elsewhere, shun every form of inducement and vote for the candidate that will be committed to your welfare, a candidate that will not shortchange his constituents, a man with a heart of gold , cast all your votes to Hon. Felix Onwurah of the ADP. It is never regrettable to always "FOLLOW WHO KNOW ROAD" and only "Flex" Knows the road.