NAGAFF TINCAN CHAPTER WILL GET IT RIGHT WITH FWDR. IFEANYI EMOH AS VICE CHAIRMAN
As members of National Association of Government Approved Freight Forwarders (NAGAFF), are getting ready to elect new officers at chapter level, it is important they jettison sentiment and vote in the right candidates this time around.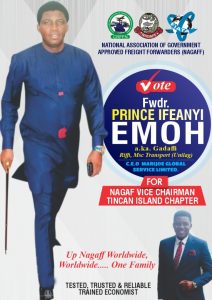 Everyone that has followed events in the Maritime sector in the last four years can attest to the fact that association activities dropped abysmally, and that is because freight forwarders at a point became disenchanted with the lackadaisical attitudes of Chapter leaders who were supposed to provide leadership but failed woefully in that aspect. Those elected to provide leadership roundly failed to perform, some of them, out of timidity could not speak up in the face of very harsh fiscal policies and jaundiced working conditions created by agencies of government.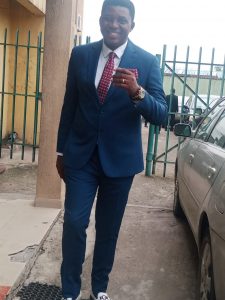 Leadership is not just occupation of elective offices, leadership is service, it is about taking responsibility, that is why it is necessary to entrust the right people with leadership, those who understand that leaders must be selfless and not selfish, those who are bold and charismatic. Those who understand the language of their business environment should be given the opportunity to lead, those who are down to earth and readily available to attend to everyone regardless of status.
Indeed NAGAFF must get it right this time by voting in capable hands to take charge at various chapters, particularly, Tincan Chapter, and that is why it is a very cheering development that Fwdr. Prince Ifeanyi Emoh has made himself available to serve as Vice Chairman Tincan Chapter if elected in August.
Fwdr. Prince Ifeanyi Emoh, Maritime Consultant and Customs Licenced Agent is the CEO, MARIJOE GLOBAL SERVICES LIMITED, he holds a Master's degree in Transportation Planning and Management from University of Lagos, Nigeria (Msc MTPM), a Bsc. in Agriculture Economics from University of Nigeria Nsukka and an Advanced Diploma in International Freight Forwarders Academy of Nigeria (FFAN).
Fwdr. Prince Ifeanyi Emoh will synergize with the incoming Chairman for Effective, Productive and Meaningful Leadership that will reposition NAGAFF Tincan Chapter for greater glory. The Chapter is very critical to freight forwarders due to its strategic role in the trade value chain, that is why capable and eminently qualified hands are needed to man the Chapter. And if great results must be achieved in the areas of freight forwarders' welfarism then Fwdr. Prince Ifeanyi Emoh should be given an opportunity to serve as Vice Chairman at Tincan Chapter.
Fwdr. Prince Ifeanyi Emoh is Charismatic, bold and courageous, he is cerebral, he is diligent and focused, Emoh is prudent and a stickler to transparency, equity, fairness and excellence.
Members of NAGAFF family, make a wise decision this time around by voting in Fwdr. Prince Ifeanyi Emoh as Vice Chairman, NAGAFF Tincan Chapter.