MEET COMRADE ONOME JOY MONIJE, THE ENTERPRISING PUBLIC RELATIONS OFFICER OF ANLCA, TINCAN CHAPTER
The pride of every organization is to have in its fold, vibrant officers that are readily available to passionately and professionally project as well as protect its interest to the best of their abilities.
And fortunately for the Tincan Island Chapter of Association of Nigerian Licensed Customs Agents- ANLCA, one of its executive members is carrying out the task pretty well and to the admiration of Maritime stakeholders.
Comrade Onome Joy Monije is the Public Relations Officer of ANLCA Tincan Chapter, and Senior Special Assistant to the fire brand Acting National President of ANLCA, Dr. Kayode Collins Farinto as well as the Chief Executive Officer, ONAS 100 RESOURCES NIGERIA LIMITED, a Customs Licenced Agency she registered 15 years ago and has diligently managed till date.
From Effurun, Uvwie Local Government Area of Delta State, the indefatigable Maritime entrepreneur and Mouthpiece of ANLCA, Tincan Chapter, leverages her outspokenness and grasp of the system to courageously lay bare the challenges faced by freight forwarders in every given fora, little wonder she has endeared herself to critical Maritime stakeholders.
Comrade Onome Joy Monije is an emerging brand, she is one of those enterprising women that are doing well for themselves in freight forwarding profession.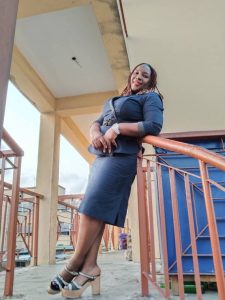 It is very true that those who work hard to succeed aren't lucky, they are rewarded. Comrade Onome Joy Monije has further given credence to that very fact as she ties her success so far to her diligence and determination to excel in the male dominated field.
In her words, " I ventured into Maritime business immediately after my tertiary education in Delta State. I came to Lagos in 1998 and was employed as a receptionist by a Clearing fame, Ade-Joy Nigeria Limited, while l also enrolled as a part time student. I rose through the ranks, from receptionist to secretary, to Director Operations and subsequently, General Manager, before l honourably resigned to establish ONAS 100 RESOURCES Nigeria Limited having been equipped with requisite experience from my former Boss , Mr. Ernest Adeji, CEO, Ade – Joy Nigeria Limited."
Today, the CEO of ONAS 100 RESOURCES NIGERIA LIMITED has 10 Staff in her employ. The Maritime Practitioner whose hobbies are traveling, meeting people and partying relishes Banga soup and starch. On her favourite attire, Onome says she goes for any dress that she feels comfortable in.
She advises younger freight forwarders to always be focused and shun whatever that could mar their reputations in their chosen field saying that honesty remains the bedrock of success.
ONAS 100 RESOURCES NIGERIA LIMITED is a functional Customs Licenced Agency that is into cargo clearing, haulage and warehousing, import and export as well as documentation, its Tincan office is located at Seaview Property, NPA Building, Room 38, National, Tincan Island.